When we arrived to Australia in January, the boys and I toured the city until school started. One of our first activities was an awesome
Junior Adventure Day at the Opera Hous
e. I remember vaguely a lovely spiel welcoming us to the land. I honestly didn't pay much attention to it.
As the weeks flew along and I attended more functions and tours, I realized that lovely spiel from the Opera House is an incredibly beautiful and respectful display called Welcome to and Acknowledgement of Country (two separate but complementary recognitions).
Welcome to Country is public recognition that the land we are on -- the land where the festival or event or museum tour or school fete is taking place -- once belonged to Aboriginal or Torres Strait Islanders.
Protocol for welcoming a foreigner to new land has been part of the Aboriginal and Torres Strait Islander culture for thousands of years. Once a visitor was granted permission to enter a foreign land its residents would formally welcome said visitor, offering them safe passage and protection during their journey.
Imagine if on your next US road trip across state boundaries the residents of a state you were crossing into formally welcomed you. The road signs welcoming us are nice, but this is a whole new ball game!
Thanks for the photo, Chris Hill / EquipmentWorld.com
The essential elements of welcoming visitors and offering safe passage remain in place here in Australia. A Welcome to Country occurs at the beginning of a formal event and can take many forms including singing, dancing, smoking ceremonies, or a speech in traditional language or English. I've only been privy to a speech. Welcome to Country is delivered by Traditional Owners or Aboriginal and Torres Strait Islanders who have been given permission from Traditional Owners, to welcome visitors to their Country. It is a great honour to be given this permission, and I feel it is a great honour to be part of recognizing the land's original owners. I tear up nearly every time.
Acknowledgement of Country is a bit different, but equally as important. Anyone can deliver an Acknowledgement of Country. It's an opportunity for everyone to show respect for the land's Traditional Owners and the continuing connection of Aboriginal and Torres Strait Islander people to Country.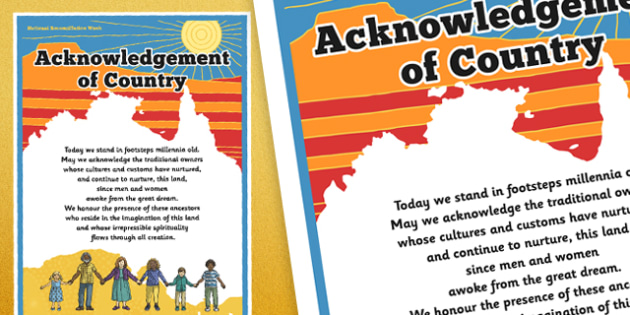 Here's an example of an Acknowledgement of Country poster from Twinkl.com
But why all of these acknowledgements? (Really...? Really...? Sigh.) There is a long and sad history in Australia of excluding Aboriginal and Torres Strait Islanders from history books, Australian heritage (flag, anthem, etc) and Australian democracy. Recognizing and including all who dwell on land -- past, present and future -- is a small but mighty reminder of the importance of treating every human with dignity and respect.
Here's a beautiful Welcome to and Acknowledgement of Country given by Deborah Lennis at the recent school fete I planned.
These recognitions are beautiful and important. Imagine what other nations might be like if we took just a few minutes out of an event or special occasion to recognize the land we're using, and pay gratitude and R-E-S-P-E-C-T to the indigenous people of the area.